Cosplay to Acting Career with Miss Lolita Love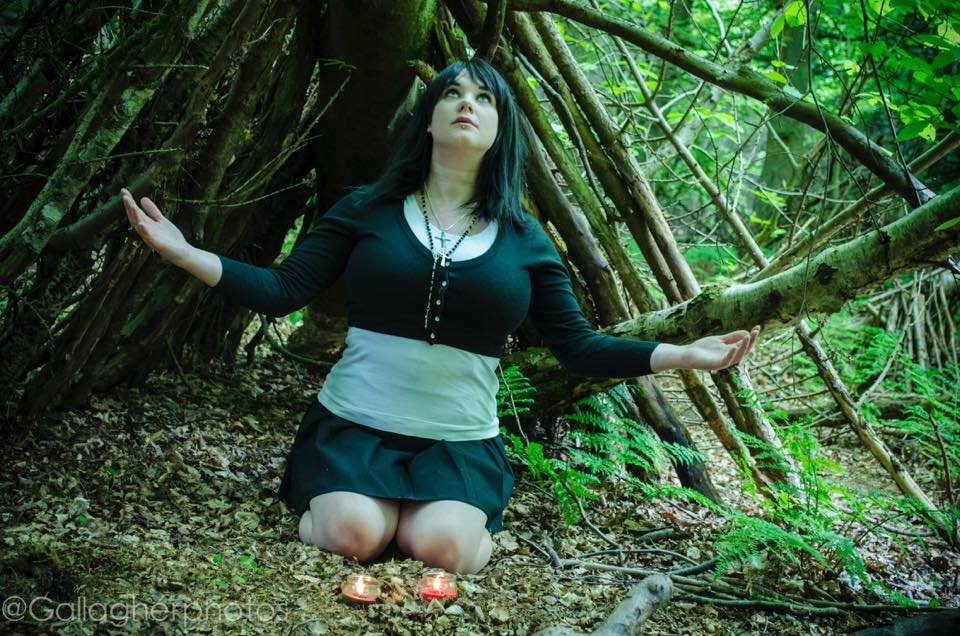 Miss lolita Love began acting from a very young age, encouraged by her subject tutors, she achieved an A grade early on in her career. Originally not perciving acting as a realistic career path in her life, Miss Lolita went on to study Applied Science and Forensic Investigation in university.Years later Miss Lolita found out about the cosplaying hobby and used this as a platform to follow her childhood dream of acting. 
'I think cosplay has definitely helped me. It's given me the confidence to be comfortable in my own body and on camera, whether film or still. I'm not sure I would have decided to do acting if I hadn't been cosplaying for a few years first.'
We sit down with Miss Lolita to talk cosplay dreams and how to begin within the acting profession as an extra!
Why did you start cosplaying?
I always loved dressing up as characters, I used to find any excuse to have a themed party or night out. I had never heard of cosplay though. It wasn't until I discovered comic cons that I found out about it, and straight away I was like "HELL YEAH, I'm on this!"

Miss lolita found an intrinsic difference between 'cosplaying' and 'dressing up'…
I have always liked to get costumes right to some extent, but I never cared about how good or bad it might look, and didn't spend time on research or making things from scratch. The more into cosplay I got, the more I have tried to really look at the outfits I'm replicating and get the details right.
I had never sewn anything until I began cosplaying, and now I have hand sewn a few items from scratch. It is a hobby, you put more into it. For a night out, you don't have as much pressure. Although the pressure is purely something we conjure up ourselves, because unless you are competing in a serious competition, you are just doing it for fun and no-one should be judging you or comparing your costume to others. You do it to yourself though!
So would you agree that cosplay is based moreso on fun than competition?
Yes definitely! Obviously for some people it is a competition, they 'want to be the very best' (to quote Pokemon), but at the end of the day we are just adults playing dress up. The clue is in the name, cosPLAY. It should always be fun, or you aren't doing it right.
Do you have a dream costume you are currently composing or would like to compose?
My dream costume would be Sarah's ballgown in Labyrinth but I don't have the skill to make that nor the money to commission it. I would love to wear a big gorgeous dress some day, I always wanted to be a princess as a child. I am (slowly) working on the Alicia Silverstone Batgirl costume at the moment. I don't have an end date in mind because I don't want to stress myself out with it, I just do bits when I feel like it.

We exchange heart felt words about the equal love of the labyrinth between us, but we're also eager to learn how Miss Lolita Love fell back into acting…
I started doing extras work because I loved the idea of being involved in film and television, seeing how it all works behind the scenes and getting to play a small part in that. Also, due to my health I am unable to work in conventional jobs right now, so the flexibility of extras work is appealing.
My first job was in May last year on a BBC production. It was doing that which inspired me to try my childhood dream of acting. I figure that it can't hurt to try, I'm either good or not, time will tell!
A big misconception by people is that you have to look a certain way, conform to society's beauty standards, to do it. That is a big no! They WANT normal, average people for the background. Sometimes they want people with tattoos, sometimes short people, sometimes amputees, sometimes guys with big beards, but there is a place for everyone in extras work. I'd definitely recommend it, if you don't mind a long day and lots of waiting around or doing the same thing over and over! It's worth it for the people you meet if nothing else.
Do you find you are stereotyped with this kind of work?
As far as extras go, they are purely interested in how you look. You are part of the set, just a prop really! So yes, you will be stereotyped if you look a certain way, because that is all they want you for. They aren't interested in acting ability or enthusiasm. As long as you will turn up and do what the directors ask of you, that's all that matters.
Cosplay revolves around being able to become whatever character you choose despite stereotyping, even though this is part of the work involved you focus on showcasing your own personal image as opposed to changing yourself for a role?
I don't get any period drama work for example, as I have piercings, tattoos and half my hair is shaved. People have said to me "you could hide the hair and tattoos and take piercings out" but that's not how it works. There are always plenty of people who don't have those things, they don't have time to spare on changing an extra's look. But on the other hand, I can get parts which require someone to look alternative or edgy. I did one in the autumn where I was billed a "trendy local" and it was obvious from the other people there that they wanted a certain modern look.

So what would a typical day on set consist of for you?
Well call times vary but for professional shoots mine have all been 7am so far, which is pretty standard. When I arrive at the film base, I have to let them know I'm there and I get a "chit" which is basically a timesheet that I fill in my details on and need to get signed at the end of the day. There's normally breakfast to help myself to, and always tea and coffee. At this point I just mingle with the other extras while waiting for production to be ready for us.
We all have to get checked by hair and make-up and wardrobe. Normally it's just a cursory glance, maybe a touch up with some make-up. My last shoot was a wedding scene and I got to have my hair styled in a fantastic do, so that was fun. When they are ready, we will jump in a minibus and are driven to the set. This is where the waiting tends to start. I take a book to read if I can but normally end up chatting when the cameras aren't rolling. Absolutely no photos of the set are allowed, nor can we approach the stars.
Lunch will be any time from 12-2pm for an hour or so, and we go back to base for this. Sometimes I might not have even been needed for filming yet. The food is always good in my experience, definitely my favourite part of the day! Then it'll be back for more of the same, repeating takes with different camera angles, waiting and watching while other scenes are filmed. I love it, but it is very tiring. The day could end at any time, you get paid for 8 hours but could leave early, or if you go over you get overtime pay. Every production is different.
Do you feel cosplay has helped you with these roles?
I think cosplay has definitely helped me. It's given me the confidence to be comfortable in my own body and on camera, whether film or still. I'm not sure I would have decided to do acting if I hadn't been cosplaying for a few years first.
Are there any agencies or places you can recommend to start out?
Yes of course. I will say that people's experiences vary with agencies but the biggest national ones to look at are: Mad Dog Casting, The Casting Collective, 2020 Casting, Pop Casting and Universal Extras. There are also regional ones but it is best to go by recommendations for those.
A few things I would say:
You must register as self employed as they do not take tax off.

FULLY READ the terms and conditions before you start so you don't get caught out.

Be professional on set but have fun too!
I would also recommend signing up to the Star Now website, I have got unpaid extras and acting jobs from there which is great for experience, and the more experience you get, the bigger the likelihood of paid/better roles.
Thanks Miss Lolita Love! Where can we find you online?
Cosplay page: www.facebook.com/misslolitalovecosplay
Acting page: www.facebook.com/serenastampfer
Twitter: www.twitter.com/misslolitalove
Acting Twitter: www.twitter.com/Serena_Stampfer
My website: www.serenastampfer.co.uk
Photo credits
1. Bonnie by Thomas Gallagher
2. Dark Swan by Eddie
3. VJigglypuff by Robert Mann
4. Maiq by Showmasters