A Revolution in Costuming – Lottie Cosplay 
We take a look at the next generation; how a costuming philosophy is formed and shaped as we speak to 'Charlotte August' otherwise known as Lottie Cosplay.
Lottie's father eagerly watches on as I write down every sentence Lottie eloquently says. She is a very young Cosplayer (12) that recently achieved 337 Facebook likes in 10 days, a truly extraordinary feat. Her first Cosplay experience was had at MCM October, father in tow, she went dressed as final fantasy 13 character lightning.
Still Lottie's father focuses on my notebook, a commendable man that looks after and runs Lottie's page for her. Lottie's dad has struck a fantastic balance between preserving Lottie's youth while enabling her to gain a presence and following on social media. The idea of a father managing their daughter simply because she wears costumes puts this new age of Cosplay firmly into perspective.
At first the prospect of someone so young gaining a social following and building a recognisable presence can seem quite daunting, almost going against the nature of Cosplay due to the attention Lottie is quickly drawing out from her fans and followers.
Lottie is however very firmly removed from the star culture costuming is slowly creating, performing both on stage and in front of the camera as if it was just something that comes with the nature of Cosplay. This is not to say Lottie is blasé about the attention she receives, in fact she loves it! What I mean by this is through her dad's protection and management Lottie is able to capture her 12 year old heart and follow her dreams as her heroine. Her parents the catalyst for Lottie to follow her genuine passion for these characters.
"Lightning's badass and don't you forget it!" says Lottie while eating MC Donald's.
I realized very quickly through meeting Lottie that I was staring at the future of the Cosplay scene.
It's clear Lottie's dad has a firm grasp of the morals he wishes to impart onto Lottie before she comes of age, but the scene itself has also gone one step further including Lottie within the community, viewing her as a voice. Cosplay Guest Tabitha Lyon's has taken Lottie under her wing setting a brilliant example for Lottie. As Lottie's father explained Tabitha has 'whisked Lottie away' stopping a photo shoot to include Lottie and to speak to her. This time Tabitha dedicates to her fans will surely be followed by Lottie herself if she chooses to continue within the Cosplay scene. Breeding the new generation of costumers.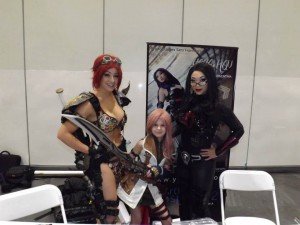 Yet it is not so much Lottie's costuming that carries her as an individual or her natural ability to warm to stage and cameras or even her genuine love of her heroines that inspire her. It is her personality.
As her parents and fellow costumers support Lottie she wishes to also do this for other costumers, using her immense attention to detail. She discusses how she helps give advice to other costumers on performance techniques and cosplay's. She's also scarily correct in her deliberations!
Standing strong she also shares her love of geek culture at school, wearing an assassins creed bag to express her individuality and interests. I'm sure some fans can relate to being bullied in school, yet this doesn't seem to deter Lottie much, quite the opposite!
Lottie's Cosplay philosophy is being shaped by her parents, the Cosplay scene as a whole and Lottie's natural abilities and qualities. Most importantly though is the time spent together with family through the hobby. Originally performing historical re-enactment and with a love of geeky culture, Lottie's dad savours the time they spend together.
The most important part of this philosophy? Spending quality time with the family enjoying the costuming hobby. That is something that will never change throughout the generations.
Credits: –
Lottie Cosplay – https://www.facebook.com/pages/Lottie-Cosplay/239235752928755?sk=timeline
pksnapsnap (Photography)